Our tilting cargo bike for your everyday life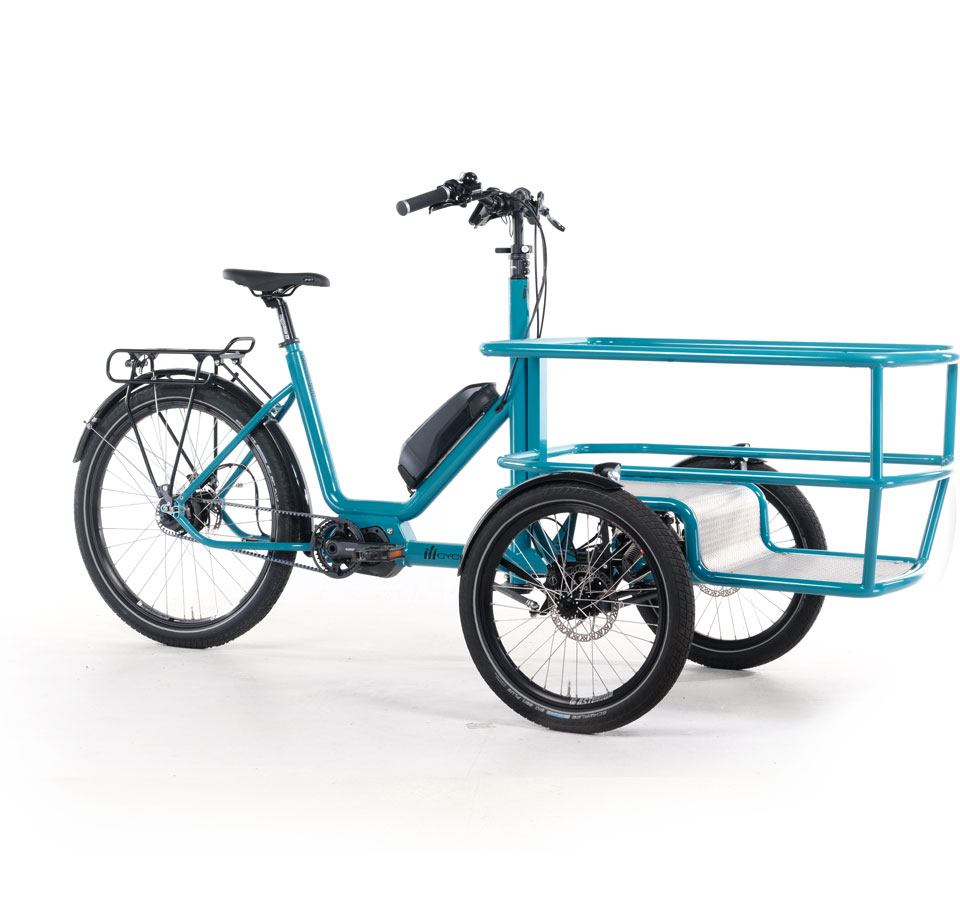 With its 90cm width (35.5 in), the ili 900 is conceived to seat up to two kids.
Thanks to its important volume of 240 liters, and a load capacity of 80kg, you transport large loads in a safe manner.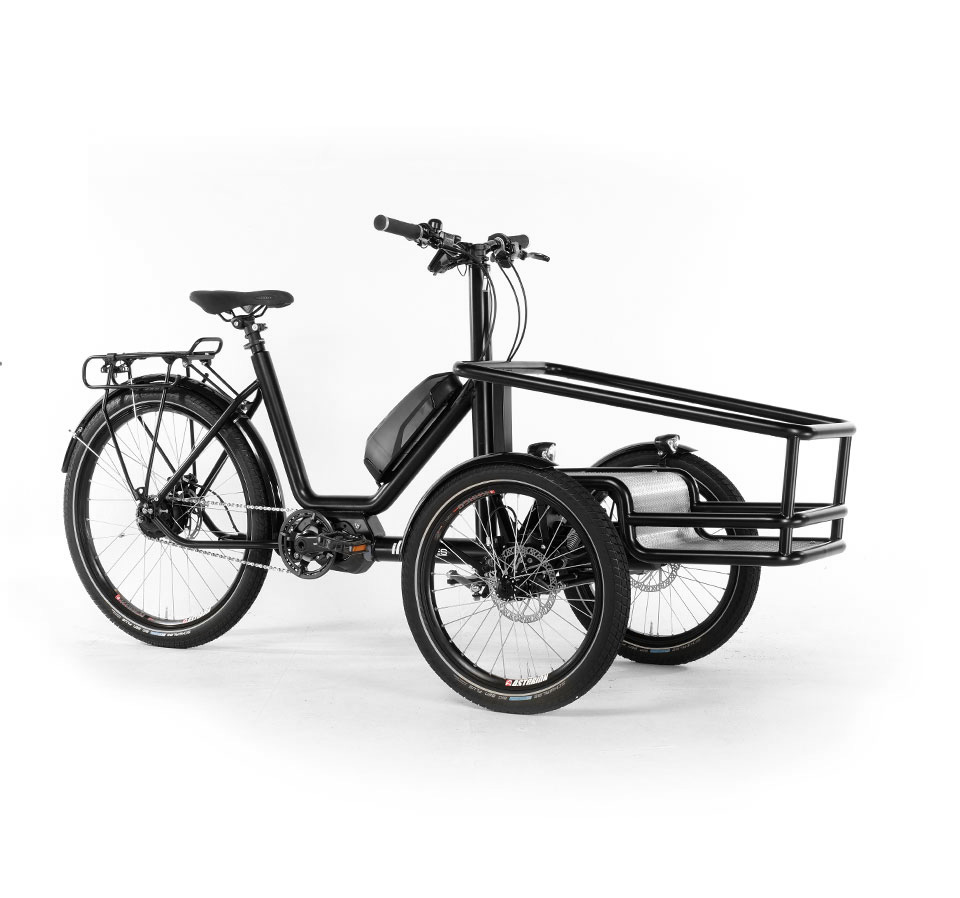 With its width reduced to 75 cm (29.5 in), the ili 750 allows you to seat one kid.
Carry up to 80kg in the 90 liters cargo area and make it your everyday companion.
Choose a design, select your options, and add a seat and a canopy for your little passengers!
Soft Bag & Canopy / Top Cover
Made of high quality waterproof fabric to close the front part
Combine with the top cover or the canopy for full weatherproofing.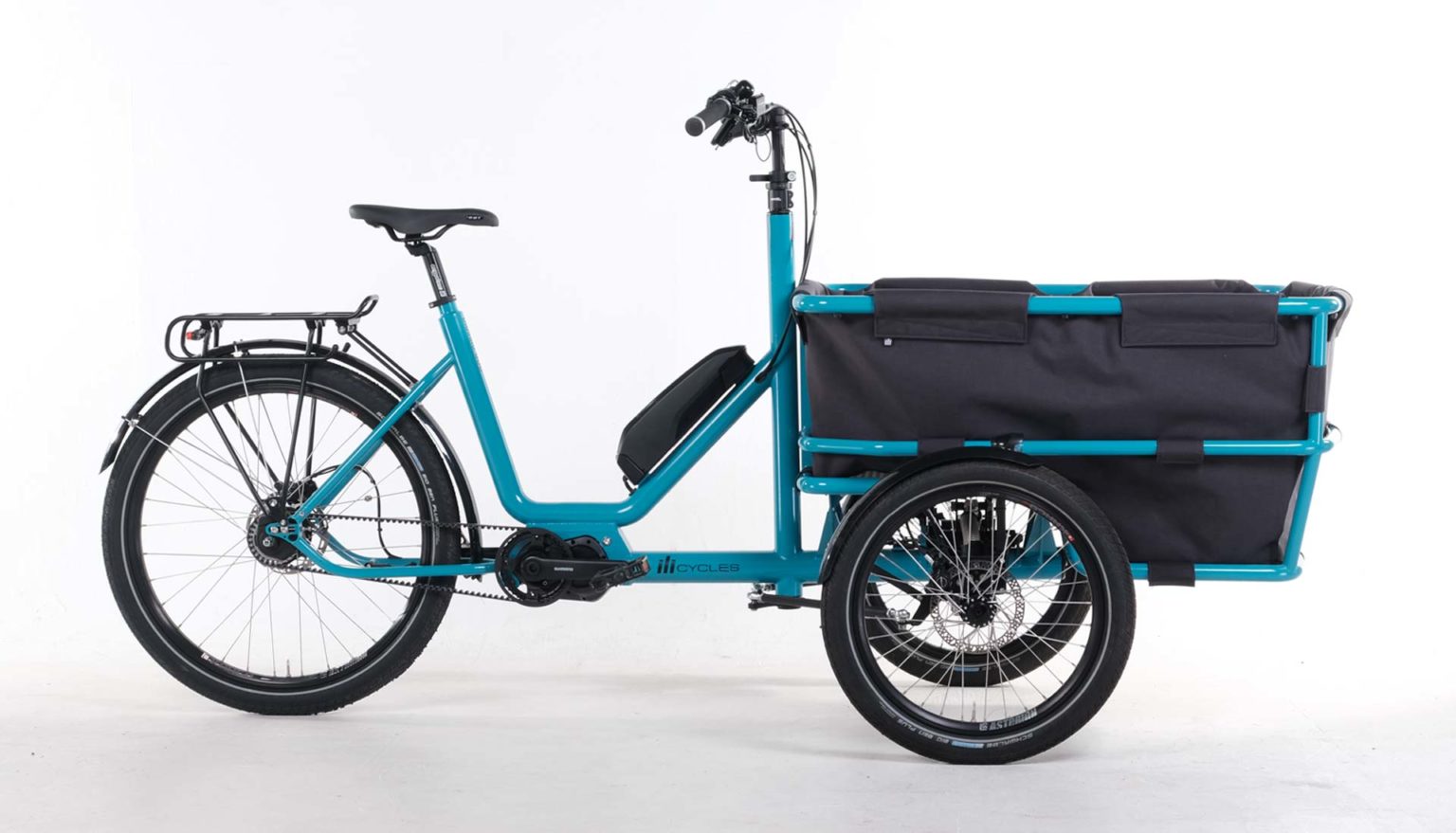 Even the rain won't stop you
Combined with the soft bag, this canopy will protect kids or luggage from rain and cold. Its large clear panels provide a panoramic view. And if the weather is nice, no need to take it off: open it on all sides to let your little passengers enjoy the fresh air!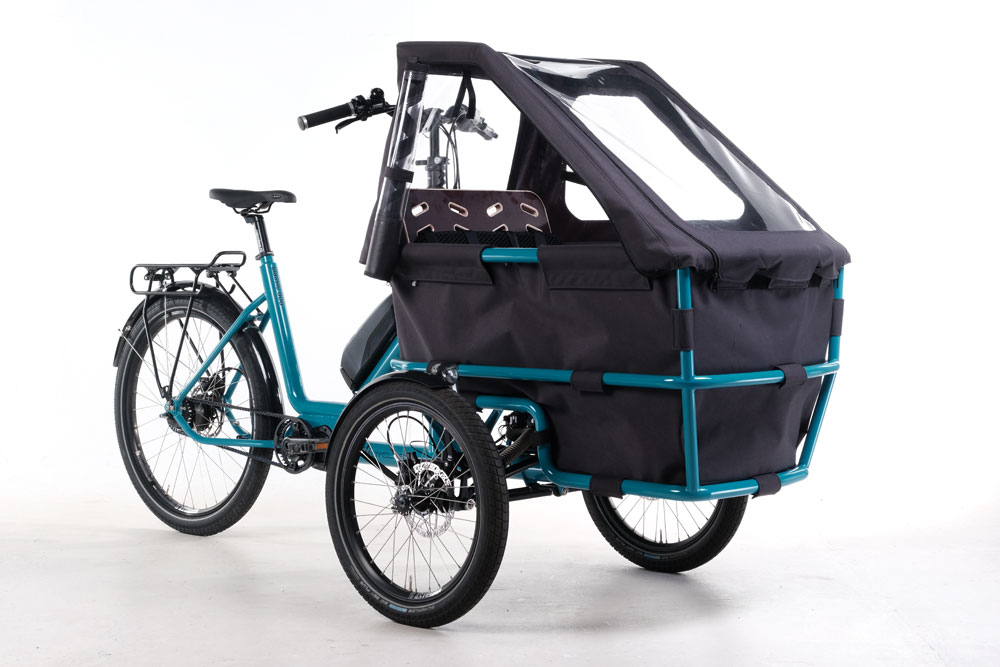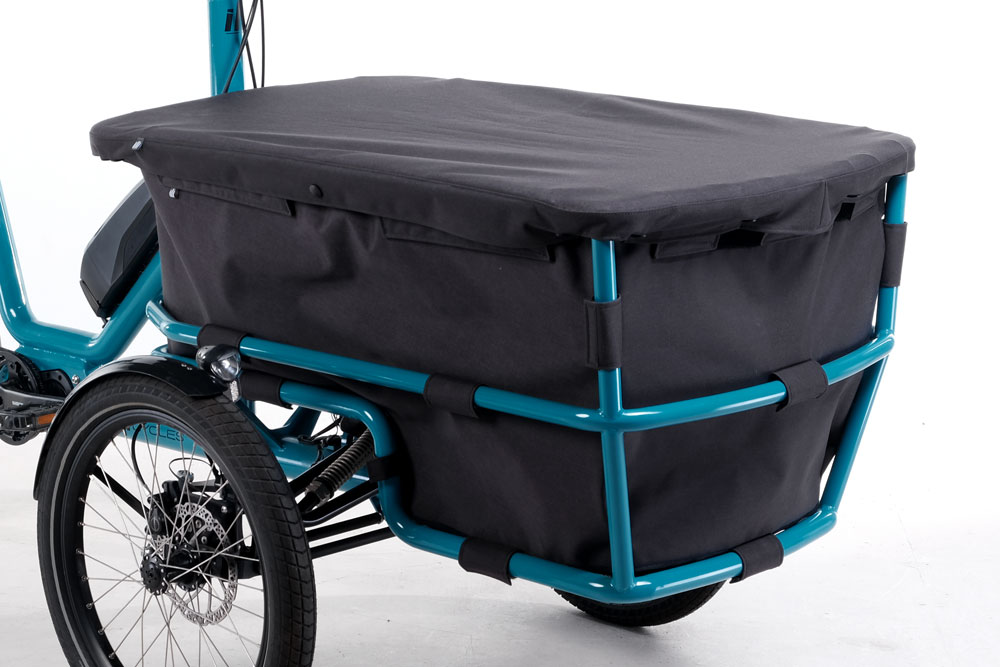 Combine it with the soft bag to fully close the cargo area.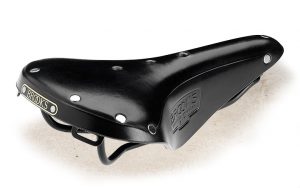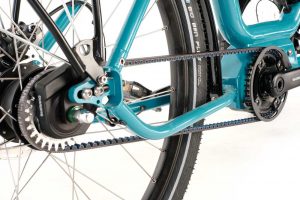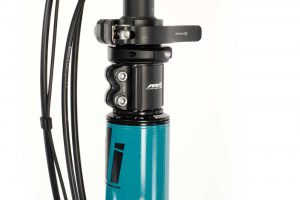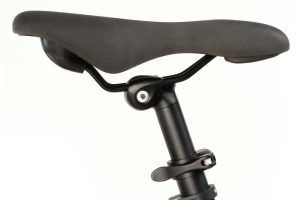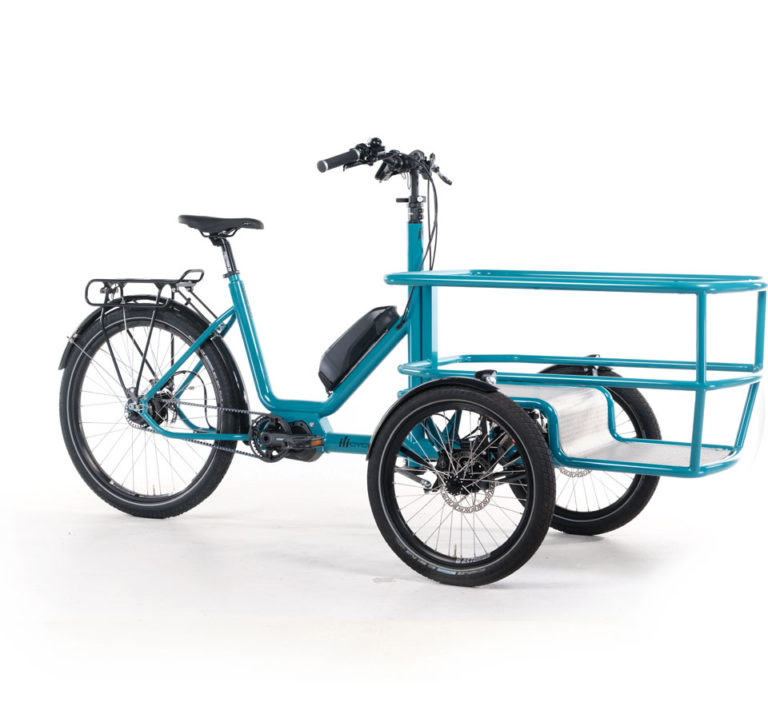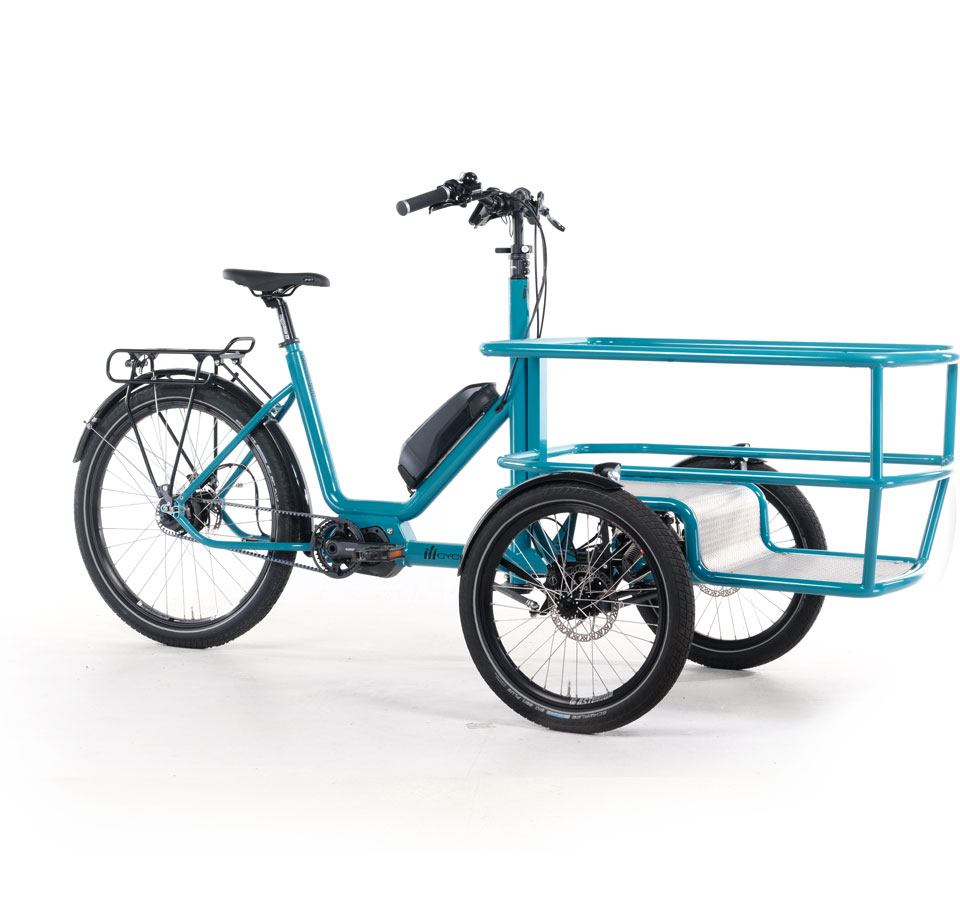 Length 230 cm (90.5 in)
Width 90 cm (35.5 in)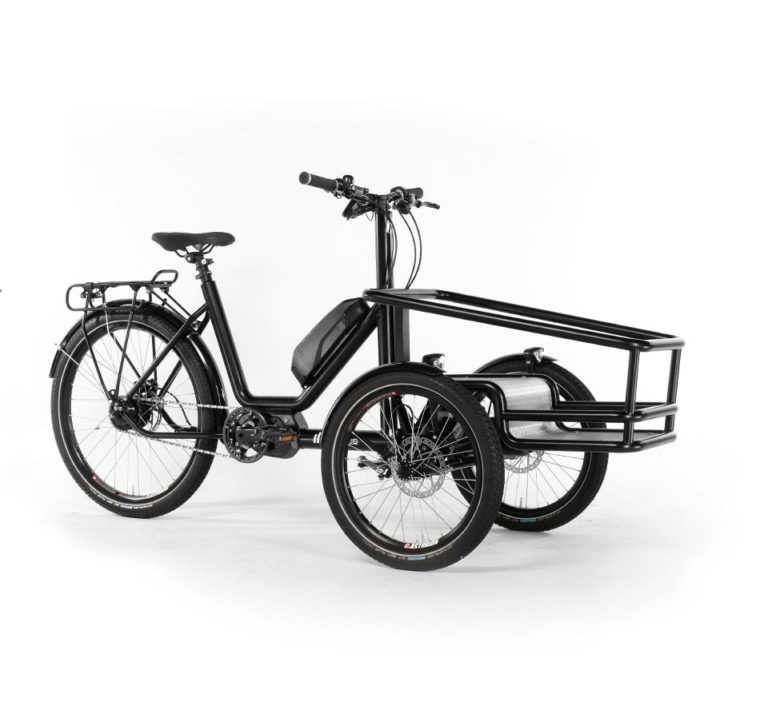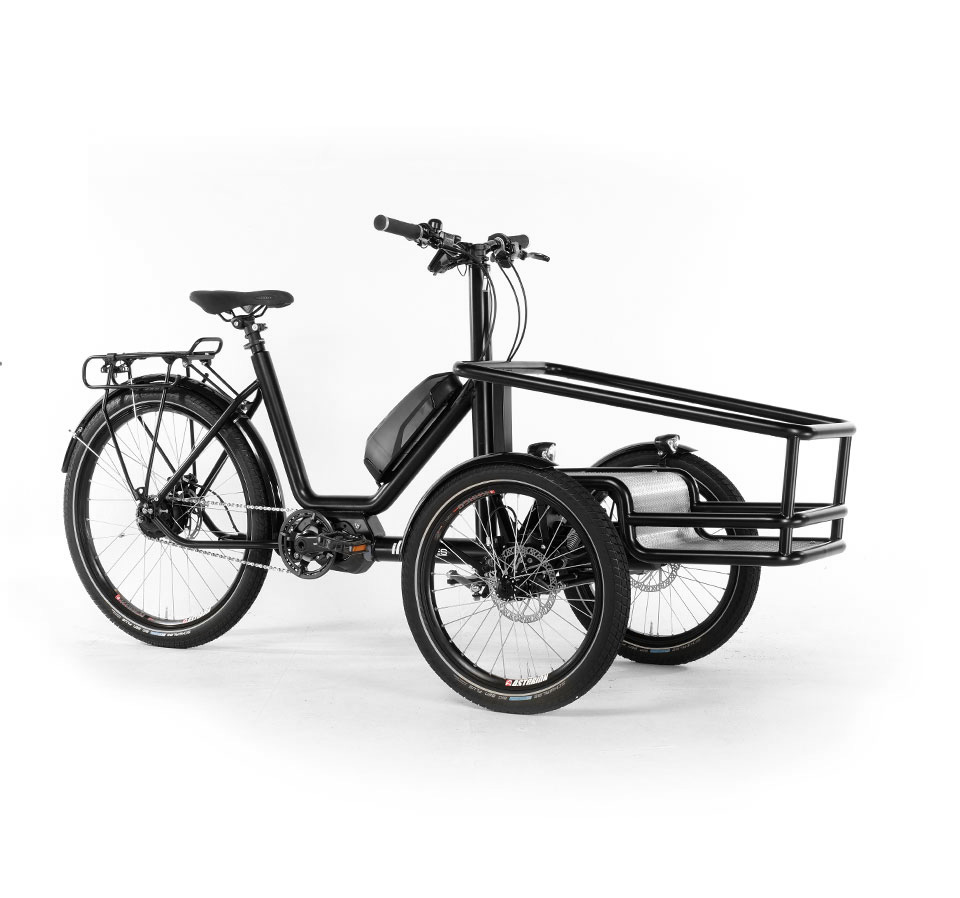 Length 210 cm (82.5 in)
Width 75 cm (29.5 in)
Frame steel
Colour black or whithe, other colors on demand
Axle tree steel, trapezium structure
WHEELS, BRAKES AND HEADSET
Front hubs Ili Cycles
Rear hub Shimano DEORE or Shimano NEXUS 5 – DI2 on demand
Rims Mach1 KARGO 20/26'' 32-hole, Mach1 stainless steel spokes
Tyres Schwalbe BIG BEN PLUS 2,10'' (front x2) and 2,35'' (rear)
Hydraulic brakes  Tektro HD-T525 (front x2) and HD-T 530 (rear), 160mm diameter, with parking position
Mudguards Glossy black Orion 58mm
Headset Semi-integrated Stronglight 1''1/8
Electric drive Shimano STEPS 6100 ­or Shimano STEPS EP8 on demand
Drivetrain Shimano DEORE 10-speed or Shimano NEXUS 5 – DI2 on demand
Chain or Gates belt on demand
COMPONANTS AND ACCESSORIES
Saddle Royale LANCIA or Brooks B17 on demand
Seatpost 350mm or quick-release, anti-theft seatpost on demand
Lights B&M Lumotec 40 Lux (front x2) and SMALL LIGHT (rear)
Rear rack Racktime ADD-IT on demand
Take over the city with our cargo bike! To provide you with a smooth and intuitive riding experience, we developed an exclusive tilting mechanism and selected high quality components.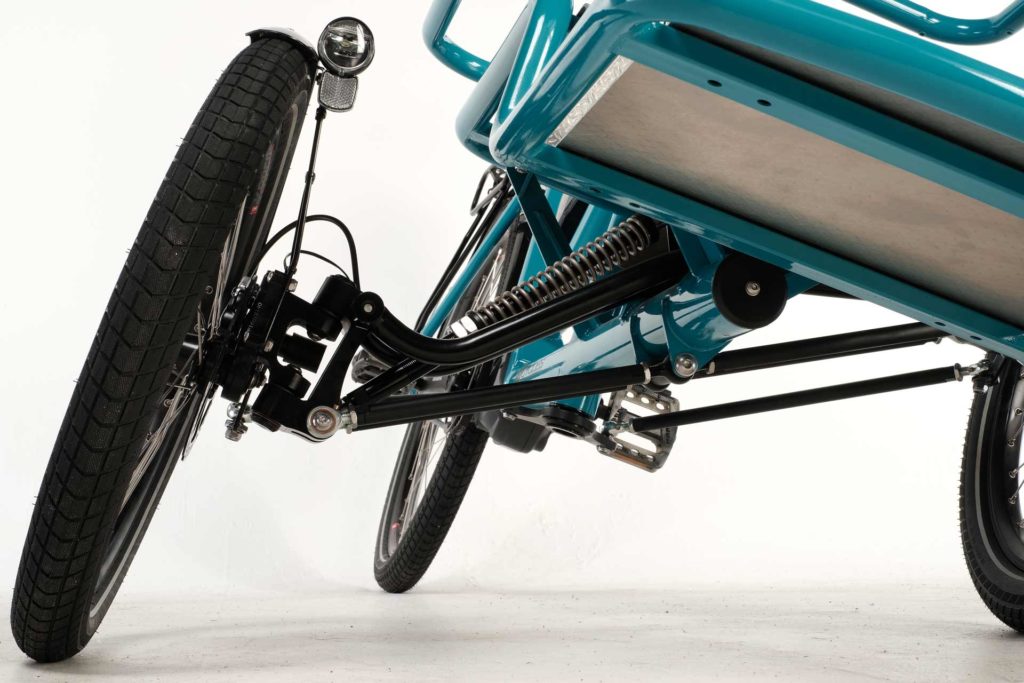 Tilting cargo bike​, An exclusive geometry​
Our unique tilting mechanism is designed to provide stability and manoeuvrability at the same time. Lean in the curves, and let the counterbalancing mechanism help you back to neutral position,and stabilize the bike when stopped.
Last but not least, the mechanism can be locked in position, thus replacing a kickstand. Enjoy the advantages of a three-wheeled cargo bike that is just as intuitive to ride as your regular bike.
SHIMANO STEPS 6100 ELECTRIC DRIVE & NEXUS 5 DI2 HUB, travel with no limits
Take over the city with our cargo bike! To provide you with a smooth and intuitive riding experience, we selected components such as:
Shimano STEPS E6100 electric drive: designed for the urban environment, it includes automatic gear shifting. Its 504 Wh fast charging battery allows you to travel up to 100 km in one charge.
Nexus 5 DI2 rear hub: developed to be used with STEPS E6100 electric drive, it allows you to shift several gears at once, and to shift at a stop. It is ideal to adapt to urban flow.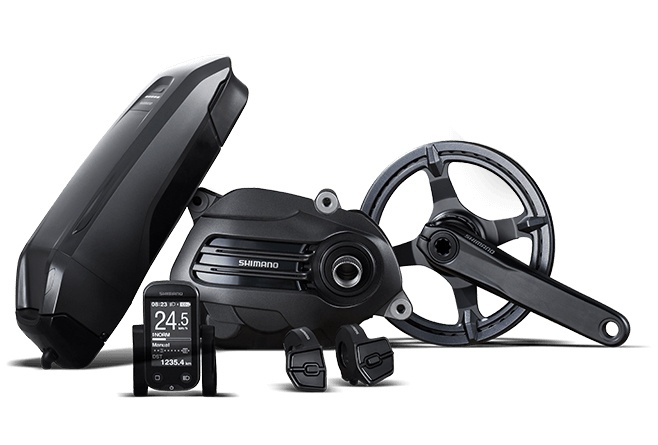 Book a test drive or order your ili Classic
You would like to buy, try or receive additional information about our tilting cargo bike? Please get in touch!
Our tilting cargo bikes are designed and manufactured near Nantes, France.
From the frame to the mechanical parts and the painting, the whole chassis is made by local craftsmen and manufacturers in France, not far from Nantes in Vendée and Haute-Loire.